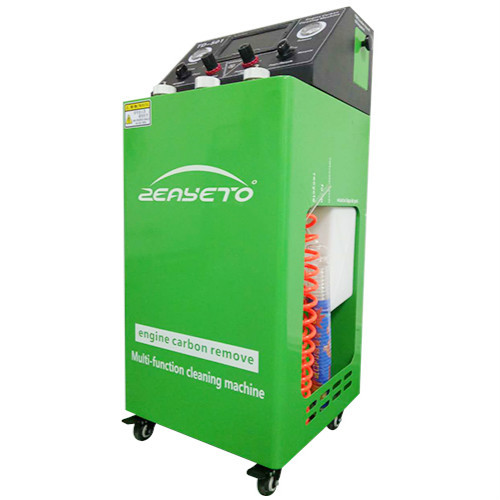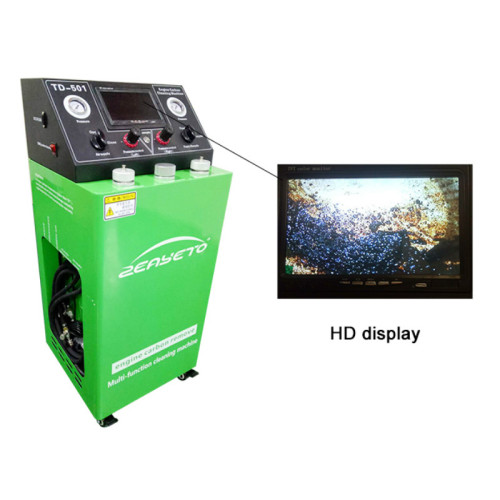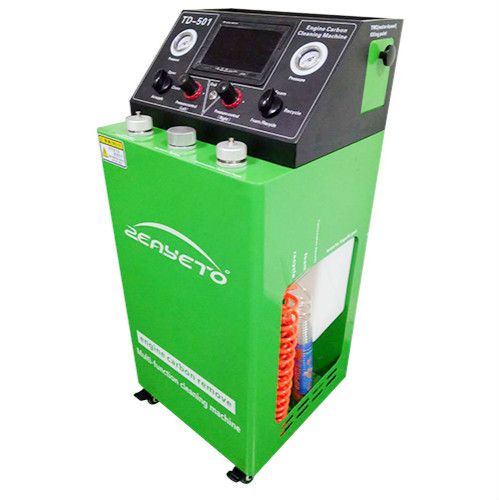 The Best Engine Carbon Cleaner With Chemicals For Cleaning Fuel System Zeayeto TD501
Item specifics
Application

Auto engines
Usage

gasoline engine carbon cleaning
Certification

CE Rosh
Warranty

12 months
Power

150W
voltage

DC 12V
Description
The Best Engine Carbon Cleaner With Chemicals For Cleaning Fuel System Zeayeto TD501

Feature and Advantages:
1. It can clean carbon for five engine system parts: Three way catalytic converter, combustion chamber, fuel system, spark plug and intake valve.
2. The special cleaning agent will help clean the engine carbon completely.
3. The endoscope built-in can make the carbon cleaning effectiveness more visible.
4. Do not need to take every engine parts down to remove the carbon.
5. Small and exquisite design with light weight for more convenient operation
6. After carbon removal ,20% engine power is increased, 70% pollution is reduced, the engine noise is decreased, oil consumption is reduced.
7. Prolong the engine's lifetime after cleaning carbon deposits thoroughly.
8. This machine can do three way catalytic converter carbon cleaning with water based or oil based, which is the first innovation in China.
Product Specification:
| | |
| --- | --- |
| Model Number | TD-501 |
| Voltage | DC 12V |
| Rated Power | 150W |
| Working Pressure | 0-1.6 Mpa |
| Weight | 38kg |
| Size | 43*40*100cm |
| Package Dimension | 47*41*110cm |
| Ambient temperature range | 2°C~50°C |
| Endoscope Pixel | 1.3 millions |
| Package | Wooden case |
| Working medium | Chemical cleaning agent |
Product Introduction:
The engine carbon cleaning machine TD-501 is a device for the gasoline vehicles carbon removal that needs the chemical cleaning agent for help. The cleaning agent can be purchase in the local city or from our company. The main selling point is that it can clean the Three-way catalytic converter, which many machines on the market cannot do that. The converter is important for control the exhaust standard of a car, but it is also difficult to clean it. As the long time driving, the converter will become dirty for increased carbon deposit inside. If do not clean it in time, the exhaust will mix with many harmful gases and substances and cause the air pollution finally.
Working principle:
TD-501 is a machine should use the special cleaning agent adjusting to the engine part, which means that it works as a medium between the cleaning agent and the engine. 95% of cleaning agent will be sent into the engine part through the special pipeline of engine carbon cleaning machine, and then burn with the carbon deposit in the engine. Finally they will be consumed and become the gases exhaust from the pipe. Therefore, when finishing the carbon cleaning, the user should step on the gas to let the dirt outlet. So we can see the exhaust become white or black while step on the gas or some carbon deposit.
The cause of carbon increased:
There are many reasons for increased carbon deposition: incomplete combustion, poor oil quality, bad driving habit, low speed driving for a long time, poor air quality etc. The increased carbon deposit will heavily effect the vehicle performance, resulting in 90% of engine component failures, fuel consumption increased, excessive exhaust emission.
FAQ:
1. Why do I need to carbon clean my car?
Incomplete combustion causes carbon deposits in your vehicle engine. The carbon is one of reasons of high fuel consumption, poor engine performance and increase exhaust emissions.
2.When do I need to carbon clean my car?
We recommend servicing your vehicle every 15,000km or 6 months, whichever come first.
3.What type of car can use your service?
All petrol, diesel or LPG vehicles trucks buses.
4.Which language handles the LCD display?
It has multiple languages built in, you can switch between various modes at will.
5.What is the biggest feature of TD-501?
It has catalytic converter cleaning function not available in other similar products.
6.What's the main functions of TD-501?
Fuel system cleaning, intake system cleaning, catalytic converter cleaning (oily / water-based), combustion chamber foam decarburization, HD display and endoscope.