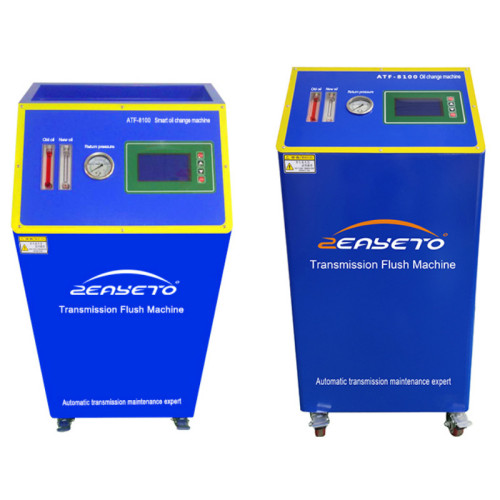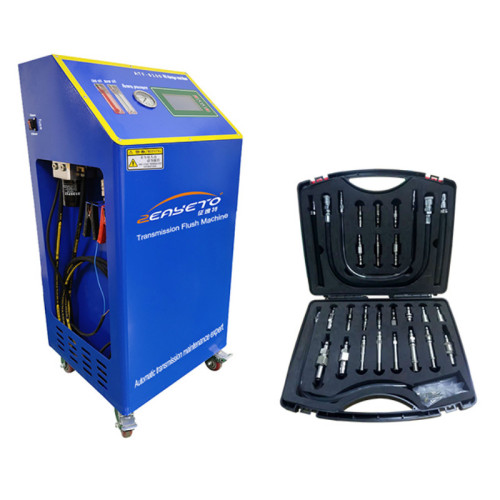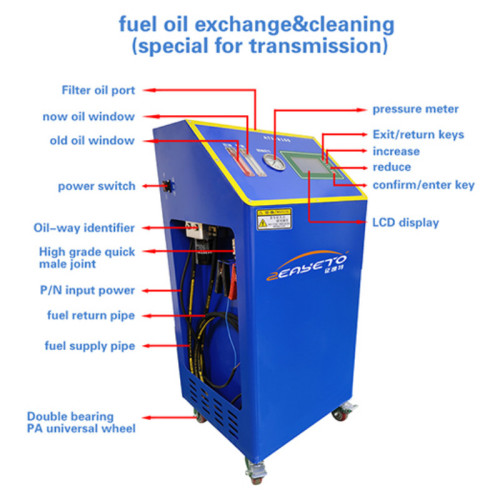 Transmission Flush Kit ATF-8100 Blue Gear Oil Exchanger With OEM Service
Item specifics
Product name

transmission fluid exchange machine
Model number

ATF8100
Applification

Auto gearbox
Usage

Gearbox fluid exchanging
Power

150 W
Input voltage

DC 12V
Gross Weight

50 KG
Certification

CE
Warranty

1 Year
Description
Transmission Flush Kit ATF-8100 Blue Gear Oil Exchanger With OEM Service

Introduction:
The replacement process of the transmission continuously adjusts the speed of the new oil pump, the new oil is added to the transmission, and the operator setting is reached when the replacement is made. When the amount of oil is changed, the equipment replacement is completed, the new oil pump is stopped, and the automatic transmission oil path is automatically switched into the self-circulating condition.
Advantages:
1. Built-in oil filter, the sludge and impurities generated during the driving process are filtered in the transmission system with an accuracy of 99%.
2. The device is equipped with optional connectors, covering 99% of the models
3. Electronic scale one-button calibration function, high precision control
4. Automatic identification of positive and negative power, oil and direction
Parameters:
Environment temperature: -10~+40°C
Relative humidity: 85%
Technical Specifications:
Voltage: DC12V
Maximum power: 150W
Pressure gauge: 0~150psi
Outlet tube: 2.5m
Oil return tube: 2.5m
Compared with traditional methods:
| | | |
| --- | --- | --- |
| | Auto Transmission Fluid Exchange Machine | Gravity fluid exchange |
| Time | 20-30 minutes | 60-90 minutes |
| Effect | Exchange 98% old oil | Exchange 38% old oil |
| Function | Flush and fluid exchange available | Only fluid exchange |
| Cost | Oil, cleaning fees | Oil, labor,cleaning fees |
FAQ
1. What are the characteristics of the product?
Automatic identification of positive and negative power supply and direction of oil inlet and outlet;
Fuel filler with inside design;
Special custom quick female head for long service life;
Fully intelligent computer board, LCD display;
One-button calibration and automatic oil change
2. What are the main functions?
Fully automatic cycle cleaning;
Fully automatic equal exchange;
Quantitatively add new oil;
Automatically empty new oil drums
3. Precautions during use.
Do not use the wrong oil;
Check if the oil level is normal after changing the oil;
Avoid risks, check the car before changing oil;
After the oil change, you must conduct a road test to deliver the car and avoid all mistakes.
Why should do transmission fluid exchanging for cars:
1. Due to the quality assurance period of the transmission oil - mineral oil: 3 years / synthetic oil: 5 years (in the case of sealing).
2. Oxidation of the transmission fluid at high temperatures can cause the clutch to slip and the sludge to increase, thereby damaging the transmission system and further threatening driving safety.
3. High temperature oxidation, viscosity, and anti-oxidation performance are reduced, and the transmission oil does not meet the oil standard.
4. Save on repair costs. The cost of repairing a gearbox can be used to maintain the gearbox ten times.
For Dealer:
1. Provide one year of free maintenance service to the machine.
2. Technical training for technicians, including product use and structure, etc.
3. Free technical support
4. Free OEM service