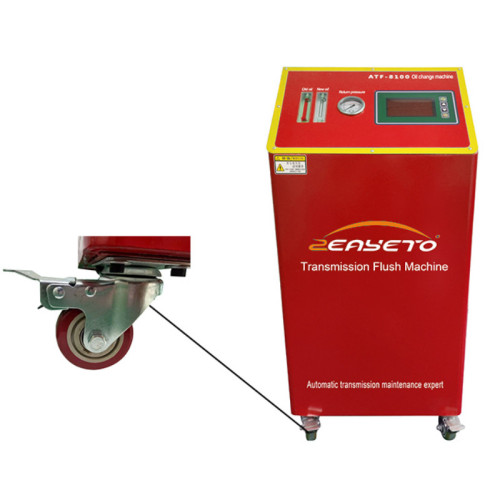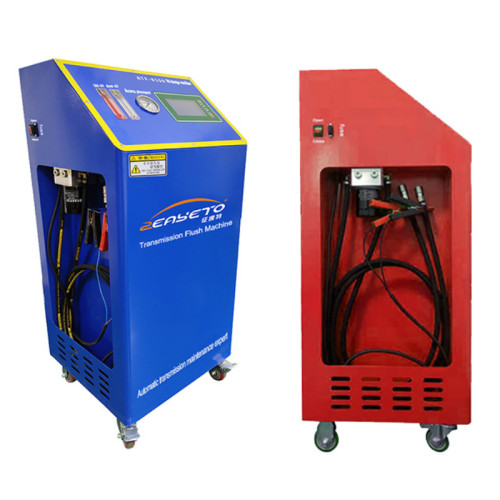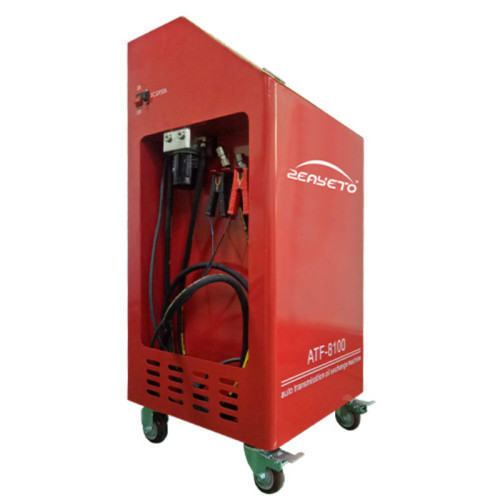 Automatic Transmission Fluid Flush Machine DC 12V Atf Change Machine
Item specifics
Product name

transmission fluid exchange machine
Model number

ATF8100
Applification

Auto gearbox
Usage

Gearbox fluid exchanging
Power

150 W
Input voltage

DC 12V
Gross Weight

50 KG
Certification

CE
Warranty

1 Year
Description
Automatic Transmission Fluid Flush Machine DC 12V Atf Change Machine

Introduction:
The traditional method of replacing the transmission oil is to use gravity to discharge the waste oil, but the oil in the gearbox cannot be completely drained by gravity, and the used oil will remain in the valve body, the cooling pipe and various components. Direct addition of new oil will be contaminated by used oil, and the automatic transmission oil changer solves this problem.
Parameters:
| | |
| --- | --- |
| Usage | Transmission oil exchange |
| Working pressure | 0-1.6Mpa |
| Connector | Standard connector |
| G.weight | 60kg |
| Noisy | <70db |
| Size | 500*450*1050mm |
| Color | Red, blue |
Advantages:
The oil changer is a kind of machine that uses the pressure generated by the machine to dynamically change the automatic transmission oil. The oil change rate can reach 100% or more, and the operation process is simple. In addition, because the traditional gravity-replacement automatic transmission oil can only replace about 1/3 of the waste oil, and the oil changer can be replaced more thoroughly, this can also extend the transmission oil maintenance cycle appropriately.
Features:
1. Automatic oil change function, can achieve one-button automatic oil change
2.LCD display, user-friendly operation,convenient and practical
3. Smart: Identify power supply polarity and oil flow direction automatically. Avoid damage to machine components
4.Full intelligent computer board, imported electronic components, performance and stability.
5. Optional: Connectors cover 99% models of cars globally. Don't worry about the machine and the vehicle do not match
Why should do transmission fluid exchanging for cars:
1. Due to the transmission oil's quality guarantee period---Mineral oil:3 years/Synthetic oil:5years.
2. The Oxidation of transmission fluid in high temperature will cause the clutch slipping and sludge increasing, which will damage the transmission system, even worse threaten to driving safety .
3. Saving repairing fees.
Working principle:
The automatic gearbox cleaning equal oil changer uses two gravity sensors to weigh the weight of new and old oils, and then calculates the flow rate of new and old oils according to the unit time, first calculates the flow rate of the old oil, and then according to The flow rate of the old oil is adjusted by the computer chip to adjust the speed of the oil pump with the new oil, and the flow rate equal to that of the old oil is obtained.
Application:
Widely used in various types of cars in the market. The automatic transmission oil changer is equipped with automatic cleaning and replacement functions. Optional connectors cover 99% of models on the market, including CVT, ATF VI, DSG and DCG.
Customer service:
1. Provide a promotion plan for the customer market
2. Free training for technicians
3. Can provide OEM / ODM and other services
4. One year warranty, lifetime maintenance
5. 24-hour online service