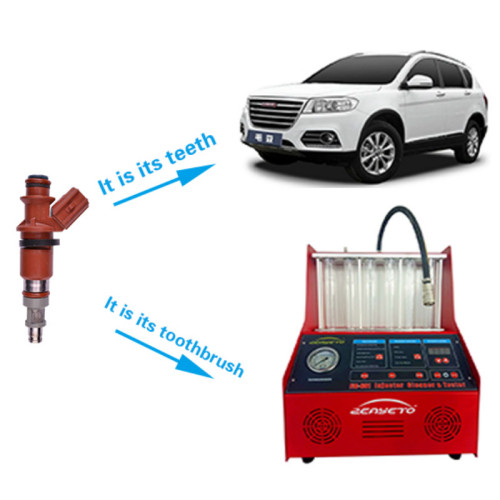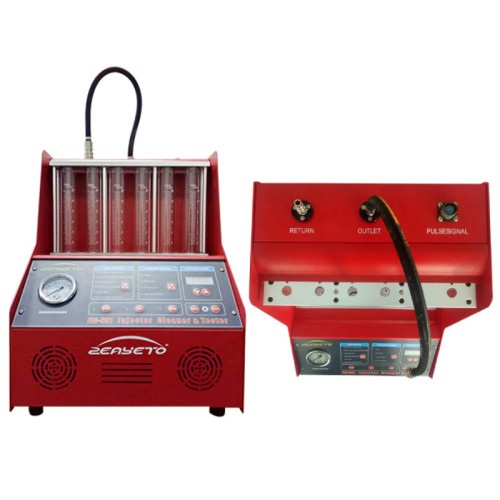 Fuel Injector Tester & Cleaner 220 Volt For Nozzles Balance Testing Machine
Item specifics
color

red
Application

Car injector
Usage

Injector cleaning & testing
Certification

CE
Warranty

1 Year
Power

230W
Input voltage

AC 220V
Gross weight

27 KG
Size

400mm*400mm*580mm
Description
Fuel Injector Tester & Cleaner 220 Volt For Nozzles Balance Testing Machine

Introduction
Today's fuel injection systems are more powerful and produce very fine sprays that are injected into the combustion chamber to improve vehicle performance and reduce fuel consumption. Fuel injectors are expensive and sophisticated precision instruments that are generally not easily replaced by the owner. Therefore, in order to ensure the normal operation of the injector, it is very necessary to carry out maintenance at regular intervals.
Parameters
| | |
| --- | --- |
| Product name | Injector cleaner and tester machine |
| Voltage | AC 220V±10% |
| Power | 230W |
| Relative humidity | <85% |
| Net Weight | 27kg |
| Ambient temperature range | -10°C~40°C |
| Dimensions | 390mmx400mmx500mm |
Cleaning&testing sequences
A complete cleaning and testing sequence shown below should be followed:
1. Ultrasonic cleaning;
2. Uniformity/Sprayability test;
3. Leakage test;
4. Injecting flow test;
5. Automatic test.
Select the corresponding parameter and set up according for various tests. For detailed operations, please refer to "0peration" part.
How often do you clean the injector?
Do not blindly clean the injector! After the car has been running for a while, the fuel system will form a certain deposit. The formation of sediment is directly related to the fuel of the car. When the mileage reaches 20,000 to 30,000 km, the owner needs to clean the injector. If the fuel injector is cleaned frequently or the fuel injector is not cleaned for a long time, the fuel injector may be blocked or even damaged.
Preparation
1) Remove the injector from the vehicle engine to check the o-rings inside for damage. Replace the damaged 0-ring with another same type 0-ring to avoid leakage during testing. Put the outside of injectors in gasoline or detergent, and wipe them with soft cloth after cleaning the outside oil sludge carefully.
2)Check the liquid level and refill test liquid when necessary. Fil1 the test liquid through the filler on the side of the unit and observe the liquid level in the fuel level viewer. In most cases, filled the liquid up to1/2 of the tank capacity.
3) Turn on the power switch on the right of the Cabinet.
4)Fill ultrasonic detergent into the ultrasonic cleaning launder so that the needle valve of the injector is covered by the detergent.
5) Connect the injectors with the right couplers.
Note:Test liquid and detergent are provided by user self. The test liquid is used for uniformity/spray ability test, leakage test, injecting flow test and Automatic Test. The mixture of fuel and detergent is used in on-vehicle cleaning. The ultrasonic cleaning uses special injector detergent.