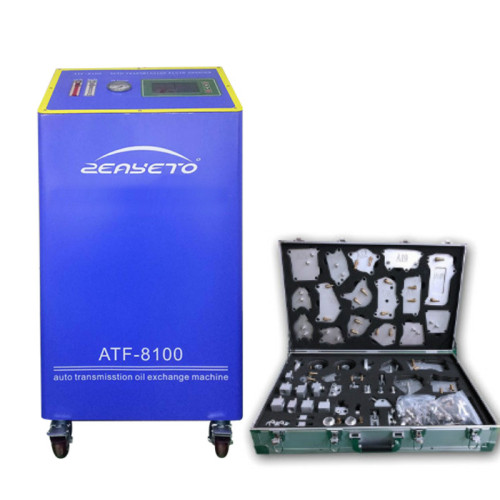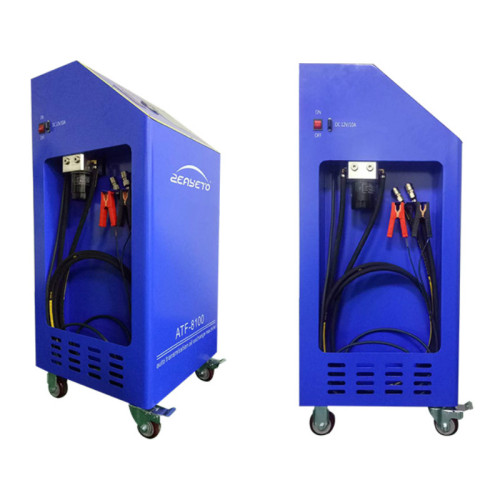 Automatic Transmission Fluid Exchange Machine For Full Transmission Flush
Item specifics
Product name

transmission fluid exchange machine
Model number

ATF8100
Applification

Auto gearbox
Usage

Gearbox fluid exchanging
Power

150 W
Input voltage

DC 12V
Gross Weight

50 KG
Certification

CE
Warranty

1 Year
Description
Automatic Transmission Fluid Exchange Machine For Full Transmission Flush

Function
1. Effectively protect the gearbox and remove grease and metal filler
2. Guarantee the same amount of exchange, the oil level is normal after the exchange is completed.
3. Applies to: All automatic gearboxes
4. Built-in solenoid valve controls the flow direction to prevent cross-contamination of new and old oil.
5. Automatically identify the positive and negative poles of the power supply to avoid damage to the equipment
6. High-precision electronic scale control equal oil change
Introduction
The traditional method of replacing the transmission oil is to use gravity to discharge the waste oil, but the oil in the gearbox cannot be completely drained by gravity, and the used oil will remain in the valve body, the cooling pipe and various components. Direct addition of new oil will be contaminated by used oil, and the automatic transmission oil changer solves this problem.
Parameters
| | |
| --- | --- |
| Usage | Transmission oil exchange |
| Working pressure | 0-1.6Mpa |
| Connector | Standard connector |
| G.weight | 60kg |
| Noisy | <70db |
| Size | 500*450*1050mm |
| Color | Red, blue |
How often do you change the transmission oil?
The new car should be replaced with automatic transmission oil when driving for 60,000-80,000 km or 2-3 years, and the repaired car, driving 20,000 kilometers or one year should change the transmission oil, otherwise it will directly affect the performance, fuel consumption and even the service life of the automatic transmission.