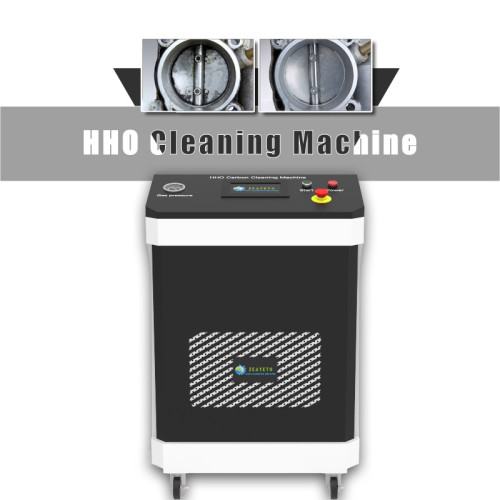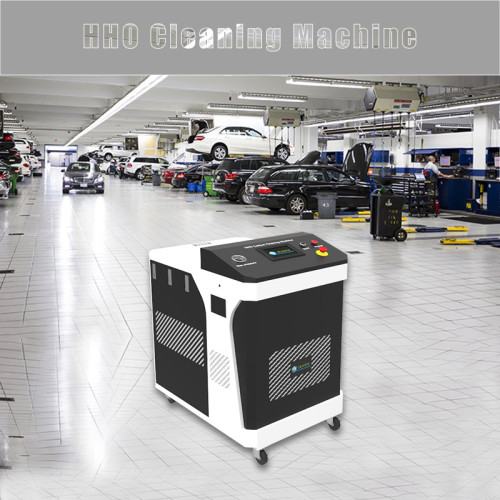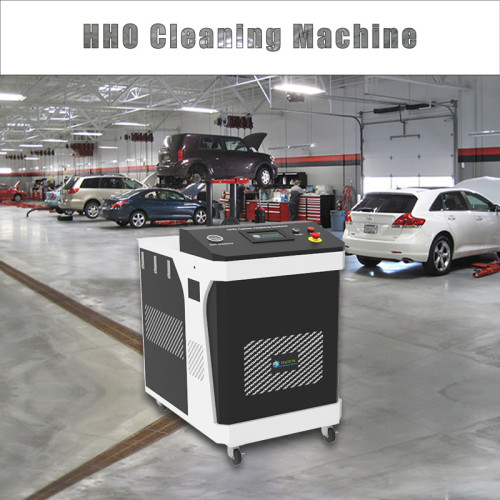 HHO Hydrogen Decarbonization Engine Carbon Cleaning Service Best Carbon Cleaner
Item specifics
Application

All Vehicles
Certification

CE
Warranty

1 Year
Power

5KW/h
voltage

AC220/380V,50Hz
Gas production

2000L/h(adjustable)
Description
HHO Hydrogen Decarbonization Engine Carbon Cleaning Service Best Carbon Cleaner

HHO Technology:
HO-1500 Hydrogen Car Carbon Cleaning Machine takes use of the new HHO technology to clean the engine carbon deposit for all the vehicles. Actually HHO technology is supported by the hydrogen generator which can produce Hydrogen and Oxygen through electrolyzing the deionized water and electrolytes. And then the Oxy-hydrogen mixture will be sent into the internal engine to burn with the carbon deposits, and finally the carbon will be melted.
Product Specification:
| | |
| --- | --- |
| Item | Car Carbon cleaning Machine |
| Color | Black |
| Main function | Carbon clean |
| Rated voltage | AC 220/380V |
| Frequency | 50/60Hz |
| Rated power | <5 KW |
| Gas output | 2000L/h |
| Water consumption | 1.01L/h |
| ODM | Available |
| Certificate | CE Approved |
Feature and Advantages:
1. HD touch screen can make carbon cleaning more convenient.
2. It Only needs 20 minutes to clean engine carbon.
3. Guarantee 100% safety for using the machine.(Automotive negative pressure alarm device and Emergency button)
4. A wide scope for vehicles: cars, SUV, Business cars, buses, trucks, etc. It can clean engine parts like intake, injector, DPF, spark plug, etc.
5. After cleaning carbon, oil consumption, 70% of air pollution and engine noised can be reduced, and 20% of engine power improved.
Working principle:
Continuously decompose hydrogen and oxygen from water by electrolysis. Hydrogen is a kind of fuel and Oxygen plays a role as combustion aid. In the engine running conditions, hydrogen and oxygen fuel coming into the engine room, with air and other vehicle fuel (oil or gas) burning together. Hydrogen and oxygen's combustion will produce high temperature steam. Hot water vapor is known to soften hard carbon deposits, softening a thin layer of carbon each cycle. The softening of carbon deposition occurs at this stage of the engine's work. (Carbon deposition softening process) At the same time, hydrogen is also a kind of catalyst. Hydrogen with air coming into the engine. In the process of compressing, due to the hydrogen molecular is very light, it spread everywhere in combustion chamber. At the same time, hydrogen molecule is very small, which is able to move quickly to the inside of carbon deposition to soften carbon deposition. With hydrogenation, non-combustible carbon changes into a combustible carbon deposition. (Carbon deposition modification process) After the carbon deposition modified in the last cycle, it is burned off in the next combustion process, and carbon dioxide is produced and discharged out of the car.
Service:
1. Free technical training for customers
2. The accessories of the machine can be changed for free in the first year
3. Twenty four hours online for providing the solution after sales
FAQ:
1. Can I use ordinary tap water?
---No, you should only use distilled or deionised water, never tap water or mineral water which could fur up the plates and reduce output.
2. How long does it take to clean the engine?
---Approximate 20mins
3. Can I use tap water or bottled drinking water?
---Tap water contains minerals which can fur up the plates in the same way as hard water furs up a kettle or iron. You must use the deionised water which can be bought from us or you can purchase from the local supplier.